A gathering of West Texas and South-Eastern New Mexico Funders whose objective is to:
Build relationship between funders in this region to increase collaboration and effective grantmaking.
Discuss and better understand our common challenges and how we are each addressing those challenges.
Provide opportunity for board members/trustees to exchange ideas with regional peers
Provide relevant training opportunities
The first gathering
Wednesday, April 12, 2023, Midland Shared Spaces, Midland 11:00-4:00
4:30- 5:30- Cocktail Reception at Petroleum Museum, STEM Center, 5:30- Dinner

Cost to attend is $75.00 per person

Mail your check ($75 for each attendee) to:
San Angelo Area Foundation
Permian Area Funders Network
221 S. Irving Street
San Angelo, Texas 76903
Please provide names, position with your organization, and email address for each attendee with your payment.

OR
On-line payment and registration is available: click to register and pay here:

Complete the first page on the online donation page, then provide the name, position, your organization, email address for each attendee on the second page in the comments section of the on-line form.
(If you need to spend the night, lodging is your responsibility)
Counties served in West Texas and South Eastern New Mexico fpr the Permian Area Funders Network:
Andrews, Chaves, Cochran, Crane, Crockett, Culberson, Dawson, Ector, Eddy, Gaines, Glasscock, Howard, Hockley, Irion, Lea, Loving, Lynn, Lubbock, Martin, Midland, Pecos, Reagan, Reeves, Terrell, Terry, Tom Green, Upton, Ward, Winkler, Yoakum
(Coverage Area Highlighted in Blue)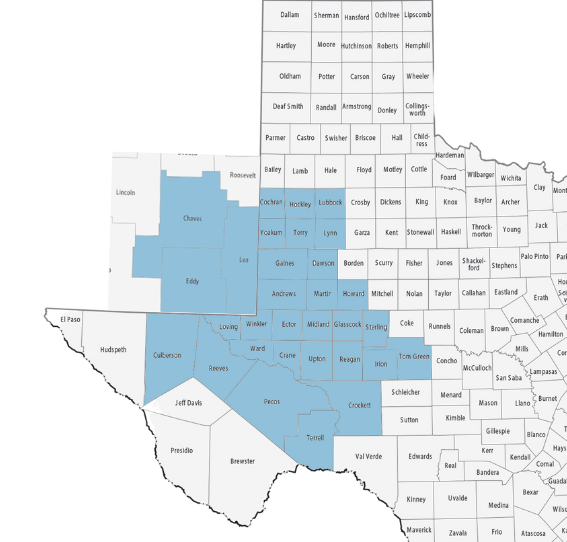 Underwriting for this gathering is made possible by the Abell-Hanger Foundation, CH Foundation, PY Foundation, Permian Strategic Partnership, San Angelo Area Foundation