The vision for Heritage Park began with J. Willis Johnson III. He wanted to see an underutilized area of downtown transformed into a welcoming oasis for both residents and tourists. A committee of thirteen people came together to turn his dream into a reality, and on October 18, 2011, work began. Originally called a 'pocket park', this idea has evolved into an exciting project that will feature unique elements.
Heritage Park will serve a variety of purposes. Downtown San Angelo workers will be able to enjoy their lunch hours in an inviting and shady corner, and it will certainly be a place for families to gether and create lasting memories. A stage area incorporated in the design of the park will serve as an energizing performance area for local music and performance groups. The goal of Heritage Park is to revitalize a part of the downtown area and provide guests with a unique San Angelo experience.
Heritage Park's design elements incorporate many unique features. Plans include abudant shade, a signature water feature, and a variety of native plant species. Inviting sound and seating elements will greet visitors, and people will view a hand-sculptured statue depicting a cowboy and horse. Heritage Park will also feature a unique rainwater capture system, and the natural limestone pathways will guide visitors through the history of San Angelo.
Perhaps the most important element of Heritage Park is that of education. It is the goal for the founders of the park to instill a tradition of learning in younger generations. Elements of the park will serve as educational tools for children, providing them a way to learn about the past and ways they can make an impact on the future. For a complete brochure that includes park goals and special features click here. Or visit www.heritageparksanangelo.com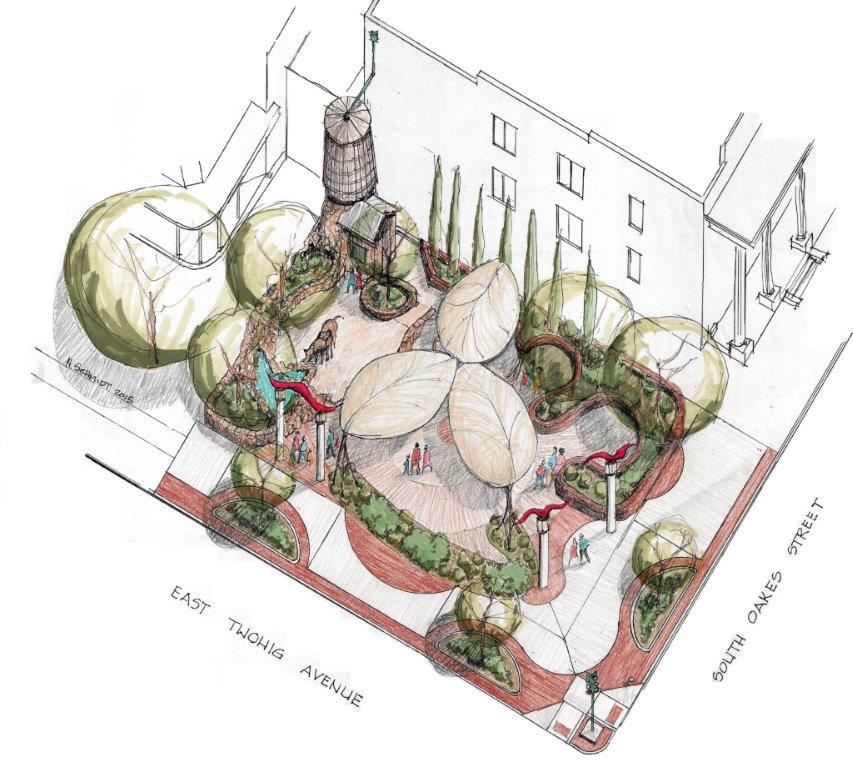 Help transform an underutilized area of downtown San Angelo into a welcoming oasis by donating to the "Heritage Park Endowment Fund-San Angelo Area Foundation"
San Angelo Area Foundation
Heritage Park Endowment Fund
221 S. Irving Street
San Angelo, TX 76903
donate online by clicking here
or buy a paver by clicking Heritage Park Paver